"Each of us should please our neighbors for their good, to build them up." Romans 15:2
Main Street Elementary School's principal and staff are dedicated to building a community of young learners who are a credit to themselves and their community. Here at Upland Baptist Church we feel blessed to have such a good neighbor. Through our outreach programs to Main Street, we find ways to support and encourage both students and staff members. We pray that they consider us their faithful neighbor right down the street, and our church as a beacon of God's love.
In July, we put together 400 bags for Main Street students to welcome them back to school in September. It included an encouraging bookmark, 2 pencils, an eraser, Smarties and Goldfish Crackers!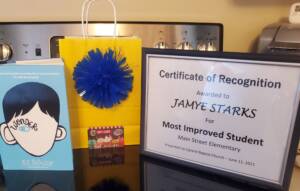 8th Grade Moving Up Sponsor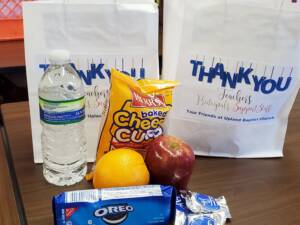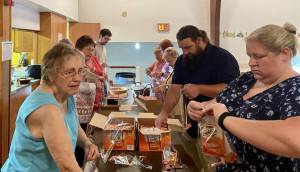 Making Welcome Back Bags for Students.